The Power Supply for the Gravity Recovery And Climate Experiment Follow On Mission (GRACE-FO)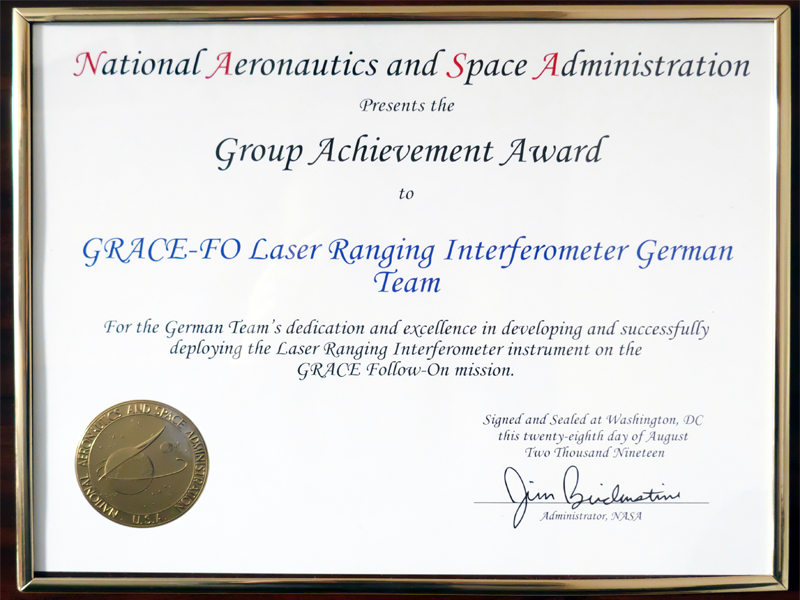 NASA Group Achievement Award goes to the German Team of GRACE-FO. For the german teams´s dedication and excellence in developing and successfully deploying the Lase Ranging Interferometer instrument on the Grace Follow-On mission.
About the mission – active in space since 2018
Gravity Recovery And Climate Experiment – Follow On Mission (GRACE-FO) is a partnership between NASA, the German Research Centre for Geosciences (GFZ), Airbus DS, STI SpaceTech and DLR.
The mission was successfully launched into Earth orbit on 22. May 2018 and first observational data were received after 3 month in 2018.
The GRACE Follow-on mission reflies the identical GRACE spacecraft and instruments, but supplements the micrometre-level accuracy microwave measurement with a laser interferometer with nanometre-level accuracy.
This system has dramatically improved the inter-satellite ranging sensitivity by a factor of 200 over the initial GRACE mission.
The Laser Ranging Interferometer (LRI) is evaluating the heterodyne signal of two single infrared frequency lasers (1064,547 ± 0.057 nm in vacuum) with a frequency offset in the MHz range.
The optical system on both spacecraft is identical. It consists of a laser, a triple mirror assembly (TMA) and an optical bench subsystem (OBS).
The OBS consists of the optical bench assembly (OBA) and the external optical bench electronics (OBE) box.
APCON was part of german the team and has developed and produced both – the main power supply and mirror drive amplifier – for the OBE Optical Bench Electronics. The OBE is a part of the LRI (Laser Range Instrument).
Features
The APCON power supply and mirror drive amplifier is based on a discrete design.
Input filter and Input Current Limiter with latch
Input Voltage Limiter (Transient protection)
Primary Under-Over-Voltage Protection
PWM Pre-Regulator and Push/Pull Power stage including transformer
Rectifier and output filter and Secondary Series Regulators
ACM Buck (average current mode) Converter
Monitoring (Power Fail circuits secondary Voltages)
Monitoring (Output Coil Current Measurement by an OP-Amplifier)
The power supply provides 14 secondary output voltages regulators from a varying input voltage.
(+/-) Voltage Analog Front End
(+/-) PID-Control (OP-Amplifier)
(+/-) Voltage PID/SM-Power Stage
(+/-) Voltage PSS (Position Sensing System)
(+/-) Voltage Analog Backend
(+/-) Secondary regulation galvanically isolated (transformer-coupled)